VEP ELECTION FORUM
č 7:00 p.m. Tuesday ç
April 25, 2006
GUNDERSON HIGH SCHOOL
č THEATER ç
AGENDA
« City of San Jose Mayoral Candidates «
(The five leading candidates.)
7:00 to 8:20 p.m.
« Election of VEP Officers «
Vote for 2006-07 VEP Executive Board
8:20 to 8:30 p.m.
« Santa Clara County Measure A «
Pro-Con arguments on proposed 1/2-cent sales tax
8:30 to 9:00 p.m.
Everyone is welcome. Please invite your neighbors!
VEP's April meeting
- Dave Fadness
NOTICE
* * EARLY START TIME = 7 pm * *
* * SPECIAL LOCATION = GUNDERSON THEATER * *
Following a long tradition of encouraging our members to become active and informed voters, VEP is offering a special opportunity for you to see, meet, hear, and ask questions of the leading candidates for mayor and the pro/con speakers on the County's proposed ˝-cent sales tax, Measure A.
These items are among those requiring your vote in the California Primary Election on Tuesday, June 6.
" We begin with the five leading candidates for San Jose mayor: Cindy Chavez, David Cortese, Michael Mulcahy, David Pandori, and Chuck Reed. Each candidate will open with a brief talk. Questions will then be taken from the audience. At the end of Q&A, each candidate will be allowed a closing comment—our usual format.
VEP's Executive Board sent a list of questions to each of these candidates. Their answers are included as a special insert in this newsletter.
" Of course, VEP has elections, too. April is our Annual Meeting month, so we'll pause briefly during our Election Forum to nominate and elect our own executive officers. We've prepared this slate of 2006-07 nominees for your consideration:
Marilyn Rodgers, President

Cindy Bosworth, Vice President

Jim Hicks, Secretary

Ginger Cardona, Treasurer

Dave Fadness, NEWS Editor
Please attend, offer alternative nominations if you wish, then cast your vote for (and vote of confidence in) our leaders for the coming year.
" Our final feature is a presentation on the proposed Santa Clara County Measure A, a 30-year ˝-cent sales tax. Laura Stuchinsky has agreed to present the argument in favor of this tax; Greg Perry will present the opposing argument. Questions will be taken from the audience.
* * *
We anticipate an interesting and informative evening. VEP wants you to VOTE SMART. Don't miss it!
Register to vote!
To vote in California, you must be:
At least 18 years old by election day;

A US citizen;

A California resident;

Not in prison or on parole for a felony;

Not declared mentally incompetent by court action; and

Registered at least 15 days before the election.
Remember: If you have moved since the last time you voted, you need to re-register.
You can register on-line at the Secretary of State's website at www.ss.ca.gov.
Postcard registration forms are available at the Registrar of Voters Office, U.S. Post Offices, public libraries, city and county offices, and the Department of Motor Vehicles—or by calling toll-free at (866) 430-8683. Registration forms can also be downloaded from www.sccvote.org.
Fill out the postcard or form and mail it to the Registrar of Voters. Be sure to allow enough time for processing before election day (see above). Faxed registrations forms are NOT accepted.
For more information contact: Voter Registration Division, 1555 Berger Drive, Building 2, P.O. Box 1147, San Jose, CA 95108. Phone: (408) 299-VOTE.
For your convenience, VEP will have voter registration forms at our April 25 Election Forum.
VEP wins Oak Grove School District award
- Dave Noel
On March 16th, Oak Grove School District Superintendent Manny Barbara presented VEP a Community Involvement award at the school district's annual awards ceremony.
Parkview Elementary School Principal Robert Topf nominated VEP for this award in recognition of our partnership with the school in our Memorial Day Parade & Festival, and for planting 23 trees on the Parkview campus last December.
Representing VEP at the school district award ceremony were Marilyn Rodgers, Dave and Aiko Fadness, and Dave and Maureen Noel.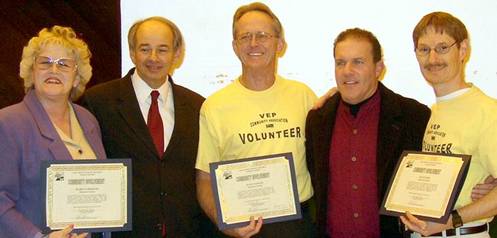 L to R: Marilyn Rodgers, Manny Barbara, Dave Fadness, Robert Topf, Dave Noel
Chynoweth Traffic Calming
- Dave Noel
Please slow down when you drive on Chynoweth between Pearl Avenue and Gaundabert Lane-New World Drive. This section of road is very dangerous. Since VEP planted the median palm trees in 1995, 21 have been hit, and many killed, by cars in that stretch of road. The palm trees may have prevented cross-over head-on accidents.
On April 5th, VEP executives Jeri Arstingstall, Marilyn Rodgers, Dave Fadness and I met to explore traffic calming options with Laura Wells and Amit Kothari of the City of San Jose Department of Transportation, and Captain Jack Farmer and Lieutenant Santiago Trejo of the San Jose Police Department.
The DOT will perform a traffic study in the coming weeks, and present their recommendations at our May 23rd general meeting.
Among the items to be considered on Chynoweth are:
Re-stripe from New World to Pearl to restore the bicycle lanes which were removed during the Hwy 85/87 interchange construction project and narrow the automobile traffic lanes;
Add botts dots ("rumble strips") on eastbound and westbound approaches to the Hwy 87 underpass;
Add signage;
Review the speed limit in light of school proximity; and
Add a stop sign at the current free right-turn from eastbound Chynoweth to southbound Gaundabert, stripe the pedestrian cross walk, and reconfigure the intersection as needed.
The DOT studied the accident history in this area. The majority of accidents occurred in the evening hours, in the eastbound direction, and were caused by drunk drivers with an average age of 19. We asked DOT to check the addresses of the drivers to see if they live in our community. Given the time and direction of the accidents it could be that these accidents are being caused by our sons and daughters, not Gunderson students.
Meanwhile, expect some additional enforcement in this area.
Chynoweth palm tree pruning
- Dave Fadness
Taking advantage of a beautiful, cool, and sunny Saturday, April 1st, and a head start provided by Jim Martinez days before, these eleven volunteers finished pruning the 171 palm trees in the median on Chynoweth Avenue:
Aiko Fadness (who also prepared a tailgate lunch for us),

Gil Gruber (whose wife baked cookies for us),

Frank Kistler,

John Marks,

Jim Martinez,

Bryan Noel,

Dave Noel,

Dave Pfaff,

Marilyn Rodgers,

Josie Supencheck, and

The Phantom

They did a beautiful job in record-setting time. VEP is very grateful to these dedicated folks for caring enough to give their free time on a Saturday to keep our neighborhoods looking their very best. Some of these volunteers live more than a mile from Chynoweth.
We also appreciate the prompt attention by San Jose's Department of Transportation Landscape Maintenance crews who were out there in the rain a couple of days later, picking up and removing ~2600 cut fronds. They, too, did a very neat job.
« « Upcoming Volunteer Events « «
Unless otherwise specified, be sure to call Maria at 226-4614 to find out specifics and volunteer for these events.
P Garage Sale + Memorial Day events flyer distribution = April 28.

P Memorial Day Parade & Festival planning meeting = May 1 at 7:30 pm (call Dave Fadness at 578-6428).

P Newsletter Folding and Labeling = May 13 (TBA).

P Memorial Day Parade & Festival flyer distribution = May 20.
VEP thanks newsletter volunteers!
-Debra Suydam
Our thanks go to the following volunteers who got together at Gunderson High School to fold, label, and sort the 2430 newsletters we mailed to whole VEP community last month. It takes people who are truly dedicated to the betterment of our community to volunteer their time on one of the few sunny days we have had in awhile. Their participation is much appreciated.
Christine Alexander

Bob Aquino

Gary Boortz

Cindy Bosworth

Ed Casey

David Claude

Jonathan Claude

Maria Digregorio

Chris Gray

Jim Hicks

Jeff Ismail

Dennis Mena

Laura Peterson

Marilyn Rodgers

Forrest Stoodley

Josie Supencheck
Hats off to these people for their help in reliably getting the VEP NEWS to our mailboxes every month.
Help wanted: Memorial Day Parade & Festival
-Dave Fadness
We need your help to make this year's Memorial Day Parade & Festival a spectacular success. There are plenty of vital, but small tasks that need to be taken care of—like passing out flyers, posting/removing "no parking" signs along our short Parade route, setting up our Festival stage and sound system, helping to manage our field games, clean-up duty, etc.
We need folks with pick-up trucks to volunteer to haul equipment between Gunderson and Parkview School.
Also needed are a variety of donations. One of our co-sponsors, Carson School asks for these items for its Face Painting and Crazy Hair attraction:
P Hair spray

P Colored hair spray

P Hair gel

P Hair glitter

P Face paints (4 face palettes)

P Face glitter
We also need costumes and make-up for Gunderson students who will dress as clowns in our Parade & Festival.
Although VEP members approved specific funding for this event, we would appreciate (and will acknowledge in our event program) any cash or in-kind donations that will help to make our event even better. Call me for more information about event needs—or—simply mail your check to VEP, indicating that the money is for the Memorial Day Parade & Festival.
Bring your talent and volunteer energy to our next planning committee meeting at 7:30 pm on May 1st. Call me at 578-6428 for our meeting location.
Our Parade & Festival is a FAMILY event so, above all, we urge everyone to attend on Memorial Day, Monday, May 29. Invite your friends and extended family. You'll find a flyer on your door soon, announcing costume award categories, etc. Watch for it.
« « VEP Community Calendar « «
Tue, Apr 25 @ 7 pm = VEP Election Forum in the Gunderson High School Theater. (See article, page 1.)
Thu, Apr 27 @ 6:15 to 9 p.m. = Almaden Valley Community Association's election forum; Santa Clara Valley Water District board room, 5700 Almaden Expressway (behind Toys-r-Us), featuring mayoral and District Attorney candidates.
Fri, Apr 28 @ 9 am to 5 pm =
E-waste collection event. (See article in this newsletter.)
Sat, Apr 29 @ 9 am to 4 pm = E-waste collection event. (See article in this newsletter.)
Mon, May 1 @ 7:30 pm = Planning Committee meeting for VEP's Memorial Day Parade & Festival. Call Dave @ 578-6428.
Thu, May 4 @ 7:15 pm = VEP Executive Board meeting. (Call any officer for further information.)
Sat, May 6 (all day) = VEP's Community Garage Sale. (See article in this newsletter.)
Tue, May 23 @ 7:30 pm = VEP meeting at Gunderson High School. (Agenda to be announced.)
Mon, May 29 = VEP's Memorial Day Parade & Festival. (See page 2 and article in this newsletter.)
Tue, Jun 6 (all day) = California Primary Election. VOTE!
Make your May 6th garage sale a BIG success
-Dave Fadness
This year, our annual Community Garage Sale will be held on Saturday, May 6th. Make sure to mark it on your calendar now, and start gathering those treasures from your garage, attic, and back porch.
The idea is to get everyone in our community to have a garage sale on the same day. The best way to help that priceless old junque find a new home is to increase traffic to your home. So, VEP will advertise this event in local newspapers and by distributing flyers around our neighborhoods.
Your best resource is you--activity attracts more activity. Get your neighbors involved. People will pass by your street unless they think something is happening there. Try to get everyone on your street to join in. You might even pool all your neighbors' goodies into one big second-hand superstore. If your neighbors aren't selling, ask if you can spread out to their driveway.
Plan now to make sure you can be seen from the street. Put up balloons or signs. Have your out-of-area friends bring garage sale items that add to yours--make it a big, fun event on your street or cul-de-sac.
Get the word out to your friends and neighbors. A little energy and creativity now will pay off in big dividends, freeing up space in your garage and putting extra money in your pocket.
June Primary Election
- Dave Noel
Although we never endorse candidates, VEP always encourages its members to become educated on the issues and to vote.
To that end, we are pleased to present another in a long series of election forums we have hosted over the years. On Tuesday April 25th, be sure to join us at 7 pm in the Gunderson Theater for a mayoral debate featuring all five major candidates and a debate on the county's proposed ˝-cent sales tax, Measure A.
There are many candidates and issues for you to become aware of. Among the races on the June 6th primary election ballot are:
San Jose mayor

Santa Clara County ˝-cent sales tax Measure A

District Attorney

County Sheriff

County Board of Supervisors, Districts 1 & 4

County Assessor

23 Superior Court judges

Santa Clara Valley Water District, Districts 1 & 4

Santa Clara County Open Space Districts 2, 5, 6, & 7

Several other statewide races, including governor.
If you are not already, be sure to get registered NOW. Start as soon as you get your ballot booklet to read about the candidates and issues—don't wait until the last minute and/or rely on the campaign literature you get in the mail. We want you to vote, but to VOTE SMART.
If you can't make it to our Forum on April 25, please be aware that the Almaden Valley Community Association will also hold an election forum on Thursday, April 27th from 6:15 to 9 p.m. in the Santa Clara Valley Water District board room, 5700 Almaden Expressway (behind Toys-r-Us). AVCA's forum will feature mayoral and District Attorney candidates. (To hear the DA candidates, you may want to attend both meetings.) For more information, visit AVCA's website at www.avca-sj.org.
Additional voting poll places needed
-Marilyn Rodgers
The County Registrar's Office is in need of additional polling places within VEP for both June 6th and November 7th elections. If you would like to utilize your garage for a voting place, or would like additional information, please contact Ed Morello at the Santa Clara County Registrar of Voters Office at (408) 282-3074 or at Ed.Morello @ ROV.scc.gov.org.
A small stipend is paid for this use of your space.
Another successful Home Faire
-John Marks
VEP's 2006 Home Faire at Gunderson High School was another success, especially for a rainy evening. More than 120 people showed up and enjoyed the exhibits, free goodies, and our cash lottery.
$700 was given to lucky ticket holders. $50 each went to: Mike Bousman, Connie Calleja, Paul Haywood, Marilyn Coscarelli, Ginger Cardona, Debra Suydam, Victoria Chaides, Al Bender, Greg West, John Leonard, Roland Zechmeister, Gerhard Lueneburger, Mark Schoenberg, and Shari Kaplan. Congratulations!
Next year's Home Faire is already in the planning stages. Please contact me at 629-6433 if a contractor does an especially good job for you during the coming year. We'll invite them to our next event.
Some of the contractors that we are especially in need of are drywall specialists, cracked driveways, stone work, garage doors, house painters, electricians, fireplace inserts, landscapers, cabinet work, and tile work.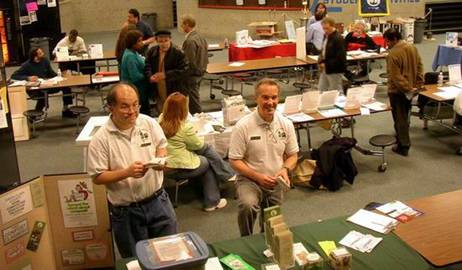 Next year's event will be on Tuesday, March 27, same place, same time. Mark your calendars now.
[Ed. Note: In more than three decades of active membership, John Marks has served three terms as president of VEP. He writes a monthly gardening column for our newsletter and, for nine consecutive years, has single-handedly organized VEP's popular Home Improvement Faires. Hats off to an extraordinary man!]
Shrubs removed on Vistapark Drive
- Dave Fadness
Setting the stage for our April 22nd planting of 70 miniature oleanders, Chris Bang and I set out on April 6 to remove the existing shrubs along the new redwood fence on Vistapark Drive at Branham Lane. San Jose's Department of Transportation Landscape Maintenance personnel coned-off the street, and we eagerly began our effort to pull those 30+ year old shrubs.
What seemed like an easy task of just wrapping a chain around root crowns and pulling the shrubs out (like a dental extraction) turned into instant frustration. Chris's mighty Bronco spun its wheels to no avail—the old pony couldn't get them to budge.
Thankfully, DOT folks came to our rescue with a much heavier truck.
In an hour and a half, we had about half of the old shrubs removed. Chris and I hustled to keep up with shovels, one exposing the root crowns, the other filling the holes and cleaning the sidewalk. With our volunteer help early the next morning, DOT came back to finish the job.
Well, almost… There's one stubborn shrub that even the big truck couldn't extract. We decided to leave that to the axes and spades of VEP volunteers on planting day, April 22nd.
On behalf of VEP, my thanks go to Chris Bang and Landscape Maintenance workers Jim E. Silva and Ed Loretto for their help with this strenuous and dirty project.
.We'll plant those 70 new miniature oleanders at 9 am on Saturday, April 22. Your help will be appreciated.
Vista Park community room grand opening
- Dave Noel
When Joe Head of SummerHill Homes approached us about developing 78 homes at the corner of Vistapark Drive and Branham Lane, we together saw the opportunity to finally build a badly needed restroom at Vista Park. That evolved into a lager dream of building a community room and snack shack as well.
Although this didn't fit in the city's budget, SummerHill generously offered to donate their construction management services to bring the costs down enough and make the project possible. They also lobbied with us to apply all park dedication fees from their project to the Vista Park Community Room.
The Vista Park community room will be VEPs new home
starting with our September 26th general meeting.
VEP offers our most sincere thanks to Joe Head, Bob Hencken, and Joe Cumartin of SummerHill Homes, our current city council member Nancy Pyle, and our previous council member and Vice Mayor Pat Dando for making this new facility possible. The project was an exemplary model of public-private and community partnership.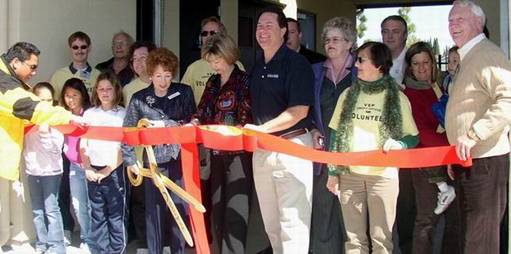 Community Room ribbon cutting
Our grand opening event also provided a unique opportunity to bring together our District 10 city council representatives from 1987 to present: Joe Head, Pat Dando, and Nancy Pyle.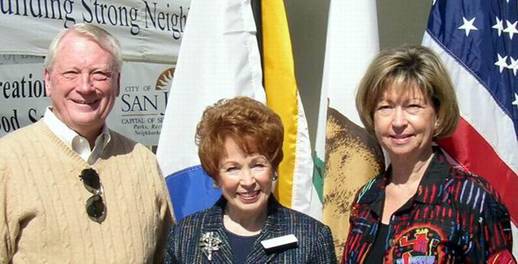 L to R: Joe Head, Nancy Pyle, Pat Dando
VEP presented a plaque to SummerHill, recognizing "…their sensitivity, responsiveness, and generous contributions to the quality of our neighborhoods in the development of Las Brisas and the Vista Park Community Room." In turn, SummerHill presented VEP with a beautifully framed color rendering of the community room which we'll proudly display along with other Vista Park memorabilia in "our" meeting room there.
President's message
-Jeri Arstingstall
VEP is an amazing community association made up of wonderful, energetic people. I feel blessed to have served this community, and thank all of you for your help and commitment.
VEP's team of dedicated volunteers serves you very well.
Our neighborhoods will continue to strive and move forward because of the past and most especially because of the future. Our VicePresident, Marilyn Rodgers is VEP's candidate for president in 2006-07; her feet are wet, so please continue your support.
It has been a pleasure serving you as VEP President these past two years.
Do NOT top trees!
Never cut main branches back to stubs. The sight of topped trees is all too common in our communities and along the roadways of America—trunks with stubby limbs standing naked in the landscape, trees stripped of all dignity and grace. Trees are often topped because they grow into utility wires, interfere with views or solar collectors, or simply grow so large that they worry the landowner. But, as one arborist has said, "Topping is the absolute worst thing you can do for the health of your tree."
~ Why NOT to top trees: Eight good reasons ~
1. Starvation: Topping removes so much of the tree's leafy crown that it dangerously reduces the tree's food-making ability.
2. Shock: By removing the protective cover of the tree's canopy, bark tissue is exposed to the direct rays of the sun. The resultant scalding can cause the tree's death.
3. Insects and Disease: The exposed ends of topped limbs are highly vulnerable to insect invasion or decay fungi spores.
4. Weak Limbs: New branches that grow from a stubbed limb are weakly attached and more likely to break and fall.
5. Rapid New Growth: Instead of controlling the height and spread of the tree, topping has the opposite effect. New branches are more numerous and often grow higher than before.
6. Tree Death: Some tree species can't tolerate major branch loss and still survive. At best, they remain weak and disease-prone.
7. Ugliness: A topped tree is a disfigured tree. Even with new growth it never regains the grace and character of its species.
8. Cost: The true cost of topping is often hidden -lower property values, expense of removal, and replacement if the tree dies.
~ Proper pruning, the alternative to topping ~
When a decision is made to reduce the size of an older tree, it can be topped, or it can be pruned properly. Although the speed and nature of re-growth will depend on species and local factors, any comparison between irresponsible topping and competent pruning will be dramatic.
~ What happens after topping a tree ~
Year 1: The topped tree is an ugly stub and a remnant of a once lovely tree. If pruned properly, the tree's size is reduced, but form and beauty are retained.
Year 3: Vigorous sprouts have sprung out of the topped tree in large numbers and are growing with abnormal rapidity. The pruned tree adds growth, but it does so more slowly and distributes it more normally.
Year 6: In a relatively short time, the topped tree is as tall (and far bushier and more dangerous) than it to begin with. The properly pruned tree is safer, more beautiful, and its size is better controlled.
Lifeguards wanted
-Mary Albin
Certified Lifeguards are needed for the upcoming summer season (May to September) at Encore Pool, located at the corner of Bluefield Drive and Rosenbaum Avenue. We offer flexible hours. Contact the pool at (408) 226-6445. Leave your name and phone number and we will return your call.
Community Service Awards
- Dave Noel
Applicants attending Gunderson or Andrew Hill should contact their administrators right away to make sure their applications are complete and signed off. The school administrators will nominate three deserving students and provide VEP with their completed applications by our April 25th deadline.
REMEMBER:
THE DEADLINE FOR ALL VEP COMMUNITY SERVICE AWARD APPLICATIONS IS 9 PM TUESDAY APRIL 25TH.
Applicants attending other schools who are applying for our "At-Large" award should make sure their applications are completed and in our hands by April 25th. These may be delivered in person at our April 25th election forum. At-Large students must be residents of San Jose and be nominated by a VEP member. We must have at least two candidates in order to grant an award.
Our community service awards reward graduating high school students for outstanding community service and volunteerism during their high school careers. We do not look at grades. This year VEP is offering these awards for our 22nd consecutive year. Awards will be $1,500 for the winner in each category (Andrew Hill, Gunderson, and At-Large).
We will present our Gunderson and Andrew Hill awards at each school's respective senior awards night in late May. We will present our At-Large award at our May 23rd general meeting. VEP grants must be used for higher education or vocational training.
The designated administrators at Gunderson and Andrew Hill are:
Larrie Peters at Andrew Hill High School

Sonia Gomez at Gunderson High School
Our At-Large application was published in the March VEP News. A softcopy is available by emailing me at the address below.
If you have any questions, or would like to volunteer to help the Community Service Awards selection committee, please contact me at (408) 266-7183 or DNoel1234@aol.com. Also contact me if you have suggestions for changing the program next year. If there is interest in changing the program, I'll form a committee this autumn to formulate a proposal to present to the membership for approval at a general meeting.
Neighborhood scuttlebutt
-Dave Fadness
ź Parkview Elementary School is being considered for Distinguished School status in the California Department of Education School Recognition Program. In day-long interviews on March 30th, a three-member visitation team reviewed Parkview's educational program and interviewed staff and community members. They recommended approval. We look forward to richly deserved good news in coming weeks.
ź VEP has applied for a grant from the Silicon Valley Community Foundation for funds needed to landscape the barren parcel at the northeast corner of Branham/Narvaez. Making water available to that site is the largest cost (more than $5000).
San Jose's Department of Transportation gave us the go-ahead to proceed. Working with San Jose's city arborist, we now have a detailed landscape design.
VEP volunteers will plant 33 trees and apply ground-covering mulch like that we used on the Narvaez median island across Branham Lane. To help make this possible, Our City Forest has agreed to donate the trees and Browning-Ferris Industries will donate and deliver the mulch (164 cubic yards).
Watch the VEP NEWS for notice of award and our calls for volunteers for this major, but long-awaited undertaking.
ź VEP's proposal to landscape the median triangle on Rosenbaum Avenue (at Capitol Expressway) is still on hold. We're waiting for word from County Supervisor Don Gage's office regarding approval to beautify this site as a volunteer project.
Free e-waste collection April 28th & 29th
- Dave Noel
Here's a chance to get rid of your e-waste, keep hazardous waste out of our landfills, and support a worthy cause.
When: Friday, April 28, 9 am – 5 pm; and Saturday, April 29, 9 am – 4 pm
Where: Blossom Hill Road and Almaden Expressway, in the Office Max and Rite Aid parking lot.
What: Computers, Monitors, Keyboards, Mice, TVs, VCRs, DVD Players, Printers, Fax Machines, PC Speakers, Radios, Stereo Components, Telephones, Microwaves.
Cost: Free!
This event benefits Almaden Valley Counseling Service, a local non-profit organization. AVCS will receive cash for your e-trash, helping them provide "Counselors on Campus", parenting classes, and other sliding scale services to the community. For more information, call ASL at (408) 468-0230.
Volunteers needed
San Jose City Hall has hundreds of visitors each day. Volunteer residents that can make a commitment are needed to give tours of this new facility.
Training will be provided, and you will be able to sign up for dates and times that fit your schedule. Tours take about 1 - 1˝ hours and groups sizes are limited to 15 people.
If you are interested in sharing your pride with others by becoming a volunteer tour guide, please email the Customer Service Call Center at customerservice@sanjoseca.gov or call (408) 535-3500.
3rd annual San Jose Safari
The perfect recipe for an awesome summer adventure: Combine 15 children with bugs, worms, and birds, then add a bit of mystery. Sprinkle with something from the past, present and future. Top it all off with plenty of creativity, adventure, and fun!
This is the San Jose Safari, where children in small groups are able to participate fully and make new friends, as the group sets out on a different adventure each day. The Friends of Guadalupe River Park & Gardens are planning another great summer of explorations.
3rd Annual San Jose Safari
Week-long Summer Day Camps
5 days per week, 9 am to 4 pm
Weekly itinerary:
Day one: Experience sensory overload at the Guadalupe River Park & Gardens.

Day two: Explore two of the biggest mystery spots in San Jose at the Rosicrucian Egyptian Museum and the Winchester Mystery House.

Day three: A morning at Arena Green's carousel of wild animals and awesome play structures will be followed by a bubble gum assignment the Intel Museum.

Day four: Enter the heart of the city at San Jose's City Hall and the Martin Luther King Jr. Library and discover why some quilts are too good to sleep under at the San Jose Quilt Museum.

Day five: Take a trip into the past at History San Jose in Kelley Park.
This summer camp for children ages 7-10 will be held four times, from 9 am to 4 pm during the weeks of June 26, July 10, July 31, and August 14. Each camp will feature the same activities.
The cost is $225 per child, which includes all activities, snacks, and bus or light rail transportation to each participating site. Extended care from 4-5 pm is available for an additional cost of $30 per child, per week. A 5% discount is available for those who register by June 1. Campers will need to provide their own bag lunch each day of the camp.
Space is limited--each session has only 15 spaces available. Please contact Education Coordinator Kary Houle at (408) 298-7657 or education@grpg.org for more information or to sign up for a San Jose Safari Summer Day Camp.
Carson School update
-Irene Shoberg
Students at Carson School are gearing up for the upcoming testing period in May. Carson School reached a commendable API score of 802 from last year's testing period. Everyone worked hard at Carson to reach this goal--and continues to.
Open House is scheduled from 7 to 8 pm on May 16th.
During the week of May 15th through May 19th, a book faire will be held at Carson School: before school, 7:30 to 8 am; during lunch, from 11:30 to 12:30; and after school, from 2:15 pm to 3 pm. Come on by and pick up some books for good summer reading for your children and even for yourself. All proceeds go to Carson Library.
[Ed. Note: Irene Shoberg is the Categorical Program Assistant and Library Assistant at Rachel Carson Elementary School and a long-time VEP member.]
Oak Grove School District news
- Manny Barbara, Superintendent
We received good news in the last couple of weeks. Two more of our Oak Grove schools have achieved the designation as California Distinguished Schools. Miner and Parkview Schools were recently visited by an outside team of educators as the final step of the Distinguished School process. They are both being recommended as Distinguished Schools.
Parkview, of course, is in the VEP Community Association area. Parkview School and VEP have had a close affiliation and collaborated on a number of projects, most recently the planting of 23 trees on and around the Parkview campus.
The most recent Academic Performance Index (API) rankings were overall very positive for our District as a whole, with 14 of our schools with similar schools ranking of 8, 9, or 10 (out of 16). Five schools were ranked a 10, including Parkview School which achieved an API of 807.
Each year our Board of Trustees denotes the second regular board meeting in May for community input to our District priorities. Input received is included in the Five-Year Plan, reflecting yearly focus areas in September of each year. If you would like to participate in this process, please feel free to join us on Thursday, May 26 at the Oak Grove School District Office, 6578 Santa Teresa Boulevard.
Gunderson High School happenings
-Cary Catching, Principal
It's hard to believe that the 2005-06 school year is almost at a close. Overall, it has been a successful year for Gunderson. Some of the highlights include:
Our API increased last year, with our goal being 48 points this year;

97% pass rate on the district's Foreign Language Challenge Exam;

We expanded our offering of SAT prep classes from one to two per year;

Our incoming student enrollment for the 2006-2007 school year is up 10% from 2005-2006;

We added some artwork to the football stadium, pronouncing this as the home of the Gunderson Grizzlies;

The softball/baseball complex project will be complete in May;

Construction on the new building has begun…finally;

Work has been completed on the new video production studio; and

Our Girl's Varsity Basketball Team was league champion.
This has been exciting year at Gunderson. We have seen a marked increase in school spirit as demonstrated by some very exciting rallies, increased attendance at all school activities, and the introduction of "Grizzly Gear", a full line of Gunderson accessories including sweatshirts, beanies, lanyards, and computer cases.
We are looking forward to next year as well. For the first time in many years, we anticipate no changes in the administrative team at Gunderson. In addition, at this point, we only have four teaching positions to fill.
Thank you for the continued support of our school. The relationship we have with the VEP Community is much appreciated.
No more free newsletters--join/renew VEP now!
- Dave Noel
In the past two years, VEP applied for and won grants from the City of San Jose that enabled us to send our monthly newsletter about every other month to all residences in our traditional membership area. This month's newsletter is our last free newsletter for non-members. We did not apply for a 2006-07 grant.
This newsletter is also our final newsletter for members who did not renew yet this year. To keep your VEP newsletters and email alerts coming, please renew now. We'd sure like your continuing support! If you're reading this, you surely recognize the value VEP adds to our community.
Thanks for joining or renewing your membership. Do it today!
What is VEP Community Association?
VEP is an all-volunteer organization of your neighbors working to improve our neighborhoods; VEP is our community's "homeowners' association".
VEP volunteers participate in a variety of activities, all of which originate in and benefit our neighborhoods.
VEP volunteers make our neighborhood's views and needs known to government at all levels.
Founded in 1969, we are one of the largest, most successful, and most active and enduring grass roots volunteer organizations in Santa Clara County.
Why join VEP?
To receive our newsletter nine times a year, keeping you up-to-date and informed.

To participate in and support neighborhood activities and representation.

To contribute to our annual VEP Community Service Awards for area high school graduates.

To be part of an outstanding community organization with a long record of success for our neighborhoods.
** Membership Application **
Note: none of the following information will be
shared with any third party.
** Please type or print legibly **
Last name(s): _______________________________________
First name(s): _______________________________________
Street address: ______________________________________
___________________________________________________
Telephone # ________________________________________
Email address(es): ____________________________________
___________________________________________________
Comments): _________________________________________
___________________________________________________
___________________________________________________
Can you give VEP a few volunteer hours? _________________
Mail your $20 check to VEP, P.O. Box 18111, San Jose 95158. Thank you!
News from San Jose District 9
-Judy Chirco, District 9 City Councilwoman
As Spring arrives with sunshine and warm weather, it is a perfect time to get outdoors and enjoy the wonderful events and parks we have here in San Jose. I want to share some great family events that you will want to mark on your calendar to attend.
~ 18th Annual San Jose Children's Faire ~
"Ready, set, play"
As council liaison to the Early Care and Education Commission, I look forward to April where we recognize the Month of the Young Child. The Month of the Young Child has focused public attention on the needs of children and their families, particularly the need for quality early childhood education.
On the local level, there will be a San Jose Children's Faire to highlight the Month of the Young Child. Join me on Saturday, April 29th from 11 am to 4 pm at the Discovery Meadow (located in front of the Children's Discovery Museum) for a day of free family fun. The Children's Faire features educational booths, arts and crafts, and free entertainment throughout the day. You can get more information at www.moyc-csj.org.
~ Sock drive to benefit homeless ~
San Jose's Housing Department is sponsoring its second Project Homeless Connection on Friday, April 27th. They will be distributing socks and other personal hygiene items to the homeless. The Camden Community Center is collecting new socks, toothbrushes, and other personal hygiene items to be a part of the give-away. Please stop by the Camden Community Center, 3369 Union Avenue and drop off socks in the Donation Container at the main reception desk where a collection box is located.
~ Celebrate Cambrian Festival and Fun Walk ~
The Grand Opening of the Camden Community Center will be celebrated with a Fun Walk and Festival on Saturday, May 20th from 8 am to 1 pm. This Fun Walk is sponsored by the Cambrian Business Association. Families and teams are encouraged to join the Walk with a chance to win prizes. The proceeds from the walk will benefit the Camden Community Center. Registration for the Fun Walk will be through the Camden Community Center.
The Festival will include a community resource fair, musical entertainment, District 9 children's art contest, and demonstrations of various classes offered at the center. A free hot dog lunch will be offered. Please come and learn more about what District 9 has to offer as we as have a good time with friends old and new. Overflow parking with be accommodated next door at the Campbell Union High School District Office parking lot.
~ Parks Department information telephone ~
Parks, Recreation, & Neighborhood Services has one number to call for information about picnic reservations, bounce house/air jumper requests, park locations, special attractions, special park use, family camp, and to report park concerns. The number is 27-PARKS (277-2757). This service is offered 24 hours a day, seven days a week.
If you wish to receive periodic emails from my office please visit the District 9 website at www.sanjoseca.gov/district9 and click on "Join Judy's email list". As always, if you have any questions, comments or concerns, please feel free to contact my office at District9@sanjoseca.gov or (408) 277-5275.
Calling all HAMS
Are you ready to help when an earthquake hits? Amateur radio operators have a long and esteemed history of volunteering their skills as experienced communicators for community, public and emergency services events.
However, if you're a "ham" and want to help in an emergency, you need to be registered as a Disaster Service Worker (DSW), which provides personal injury and liability coverage while you are a volunteer during emergencies. This registration should be done BEFORE the emergency occurs.
Hams played a critical role in recent disasters, especially during and after Katrina, and will do so during any future events – will you be part of the group?
Training for communications during emergencies will be provided to those who become DSWs. If you want to be part of this, or for more information about amateur radio emergency communications in Santa Clara County, contact Larry Carr, Chief Radio Officer, Santa Clara County Office of Emergency Services, by email at KE6AGJ@pacbell.net, by letter at 55 W. Younger Street, San Jose, or by phone at (650) 269-9638.
[Ed. Note: This article was taken from County Supervisor Don Gage's March 2006 e-bulletin.]
Disaster Preparedness Faire
-Marilyn Rodgers
Plan to attend a Disaster Preparedness Faire which is being sponsored by VEP and developed in conjunction with one of our young members, Jeff Carruth, as an Eagle Scout project. The Faire is currently being planned for this autumn, this coming September or October (to be announced).
Our Disaster Preparedness Faire will be a fun, educational, and interactive opportunity for the whole family to learn how to become better prepared for a disaster. Watch for further details in upcoming newsletters.
Annuals for the summer
-John Marks, VEP's Green Gardener
By now the perennials and bulbs you planted are in full swing! Continue to care for these plants, providing them proper nutrients, moisture, light, and protection from pests and diseases.
The last step in completing your planting is to add annuals and roses to the garden. Consult your garden plan before heading off to pick up these plants. Know what types of annuals and roses will grow healthy and successfully in your garden.
There are so many varieties to choose from, consult a plant encyclopedia to choose the best annual and rose varieties for your garden.
When selecting annuals at the nursery or garden center review plants to see that they are pest and disease free, with no holes in the leaves or discolored edges. Look for healthy leaf color, and see that the roots are not overcrowded.
Once you have your annuals home from the nursery, get them into the ground or container as soon as possible. Planting will allow you to get the annuals the proper nutrients and moisture they need to begin developing roots.
When planting annuals, make sure to properly amend your existing soil. I recommend using Miracle-Gro Garden Soil for Flowers and Vegetables to improve the condition of the soil and to provide essential nutrients needed by your plants.
To make the most of the annuals you have, plant them in groups or staggered, depending on the size of the garden.
If you are planting in containers, try to place the annuals that will grow tallest in the center and from there, plant the remaining plants in descending height toward the edge of the container. This will keep shorter plants from competing for light with the taller plants.
Before placing annuals into the soil, gently break apart roots that have become overgrown. Removing the matted tangles before planting will allow roots to grow strong once in the ground.
Keep your annuals growing strong and healthy with the proper nutrients. Feed them every other week with Miracle-Gro All Purpose Water Soluble Plant Food.
Another booster for your roses and annuals is a homemade start-up meal. Mix 1 tablespoon of liquid dish soap, 1 tablespoon of hydrogen peroxide, 1 teaspoon of vitamin B-1 starter, and 1 teaspoon of whiskey in a half gallon of warm water. Treating your plants occasionally with this concoction will help them perk up and bloom.
~ Pull those dandelion blossoms! ~
As you head out the driveway on your way to work or shopping, you've probably noticed a yellow dandelion blossom or two. Make a note to at least pull the blossom off before it goes to seed, preventing it from spreading all across your lawn. If you have a dandelion stab, dig up the whole plant.
~ Black mold on oranges? ~
When you go to pick your oranges, you may notice black "dirt" on them as well as the leaves. You may also notice a lot of scale all over the trees.
The "dirt" is called sooty mold. The scale comes from aphids, mealy bugs, and other sap-sucking insects that eat more sap than they can digest and exude the excess. It all falls to the fruit and leaves below, and a fungus grows on this exudate.
Sooty mold grows only on the surface and can be washed off. The exudate is sweet and serves as a food source for ants.
To control the scale, prevent ants from climbing the tree, and natural predators will usually take care of the scale. To stop ants, wrap a 3-inch wide band of masking tape around the trunk and spread sticky goo (tanglefoot) on the tape. Although the ants can't cross the tape, they will look for other ways to get at the food that they scent. You have to remove any branches, twigs or leaves touching any structure or another shrub or tree, as ants will use them as pathways to follow the scent to food.
~ Degenerate tomatoes? ~
Tomatoes in our area can be infected by verticillium wilt and fusarium wilt, two soil-inhabiting fungi. Both can cause the fruit to become deformed, stay small, and turn the leaves brown. The most likely culprit is fusarium wilt. These two fungal diseases persist in the soil for up to 20 years and affect many other plants, as well.
Do not plant tomatoes in the same place. If possible, plant only those that are labeled VFN (verticillium-, fusarium-, and nematode-resistant). These will help prevent the spread of the diseases. Rotating the area where tomatoes are to be planted is an old, but effective practice.
~ Squirrels II ~
As you know from my previous columns, there are no repellents or magic wands to make squirrels go away. But you can discourage them by putting walnut-size rocks on the surface of soil in pots and planters. Use colored rocks if possible--red, white, lava, or smooth black stones. Don't ask me why it works, but the size is important, and those bushy-tailed rats will leave your containers alone.
~ Crab grass bothering you? ~
One way to handle crab grass is weed killers. Many types exist. The most effective among them are pre-emergent types that kill weed seeds as they sprout.
It's essential to apply the herbicide before the crabgrass emerges from the soil. This happens in spring when soil temperatures are greater than 55°F to 60°F for 7- to 10-consecutive days; so, you may still have time.
Check with your local extension service for timing, or monitor the soil temperature yourself using a soil thermometer inserted at an angle just below the surface. Do NOT apply weed killers prior to seeding or in an area that's just been seeded.
Stomp-out West Nile virus—you can help!
Now that our rainy season is finally coming to an end, be sure to drain or treat all stagnant water sources in your yard. This includes such seemingly innocent, but notorious mosquito breeding areas as birdbaths, flower pots, old tires, etc. Even small sources must be drained, changed, or treated weekly. Even one cup of stagnant water can breed thousands of mosquitoes. Report any stagnant water or mosquito activity, neglected or abandoned swimming or wading pools, hot tubs, or fish ponds to the Santa Clara County Vector Control District at (408)792-5010.
West Nile virus (WNV) is a mosquito-borne disease. It's considered the fastest-moving "vector"-borne disease the U.S. has ever seen. Vectors transmit pathogens from one host to another; in this case, mosquitoes carry the virus from bird to bird, bird to human, and bird to animals (primarily horses).
Who is affected?
Humans and animals, including birds, may all be affected by WNV. People most at risk are the elderly and those who have compromised or weakened immune systems. There is no human vaccine or treatment.
What are the symptoms?
Most people who are infected with the WNV will not experience any type of illness. Mild symptoms include a few days of fever, headache and body aches, occasionally with a skin rash on the trunk of the body and swollen lymph glands. Severe symptoms include headache, high fever, neck stiffness, stupor, disorientation, coma, tremors, convulsions, muscle weakness, and paralysis. These may last several weeks, although neurological effects may be permanent. It is estimated that 1 in 150 persons infected with WNV will develop a more severe form of the illness.
How does it spread?
WNV is normally spread through the bite of an infected mosquito.
What can I do to fight West Nile virus?
Target the source: Drain or treat all stagnant water sources (see above).

Report dead birds: If you see recently dead birds--particularly crows, blackbirds, jays, magpies, and raptors such as hawks and owls, report them immediately to (408)792-5010. Do not touch the birds.

Contact SCCVCD at (408)792-5010 if you are experiencing problems with mosquitoes, need a free home and/or yard inspection, or want free mosquito-eating fish for ponds in your yard.

Help Educate the Public: Tell friends and neighbors about this important public health issue and how to avoid it.
To avoid being bitten, wear protective clothing and use an insect repellent containing DEET, particularly at dawn and dusk when mosquitoes are most active.
For more information, contact Santa Clara County Vector Control District:
(800) 314-2427 or (408) 792-5010
www.sccvector.org
westnile.ca.gov
www.cdc.gov/ncidod/dvbid/westnile
www.sccphd.org
Cash rewards for tips on crimes
What is Crime Stoppers?
Crime Stoppers is a non-profit organization made up of a volunteer Board of Directors of concerned citizens who are dedicated to doing something about crime in our community. They have formed a partnership between the community, police departments and the media in order to assist our communities in the battle against crime.
What does Crime Stoppers do?
Crime Stoppers operates a 24-hour telephone line, (408) 947-STOP (7867) for citizens to report crimes or criminal activity.
Callers remain ANONYMOUS.
Callers don't give their name and they are given a code number. lf their call results in an arrest, they are eligible for a CASH REWARD of up to $1,000. Directions are clearly given as to where and how the reward will be given.
NO ONE EVER KNOWS WHO THEY ARE.
The statistics…
Over the past 25 years, the Crime Stoppers program has provided information to Santa Clara County law enforcement agencies that has resulted in more hen 800 arrests and the confiscation of over $10,000,000 worth of drugs and goods.
What can YOU do?
Life in Silicon Valley is fast. And although you would like to do something to help and make a difference, your time is limited. However, you can help make a difference.
Crime Stoppers is NOT funded by federal, state or local agencies. Our only source of funding comes from tax deductible, corporate, business, and individual contributions. 100% of funds raised go directly to reward payouts and increased public awareness.
Don't you think it's time to get involved?
Crime Stoppers has already made an impact on your life and you never knew it. You can help your community by contributing to Crime Stoppers. To make a personal, business or corporate tax-deductible contribution, send a check to:
Silicon Valley Crime Stoppers
1671 The Alameda, Suite 100
San Jose, CA 95126
To host a fundraiser or find out about our volunteer program, call (408) 947-7867. For information on Crime Stopper's annual golf tournament at Silver Creek Country Club on May 1st, call 947-STOP or 997-1198.
Remember, Crime Stoppers works because of people like you.
Call (408) 947-STOP.
« « Bulletin Board Ads « «
WANTED: Volunteers to serve as 2006-07 VEP officers. Call any current officer listed on the mailing page of this newsletter.
HELP WANTED: Certified lifeguards for this summer season (May to September) at Encore Pool. Call (408) 226-6445.
COLLECTING MILITARY ITEMS: Uniforms, leather, web gear, bayonets, knives, personal items, photos, etc. Top $$$ paid. Call Doug @ 210-9725 or 629-7436.
HANDY-MAN: Mr. Fix-it will repair leaks, sticking doors, locks, latches, lights, and life's little ills. No job is too small. Call John @ 629-6433.
Use the following form as a guide for submitting an ad:
NAME: _____________________________________________
PHONE# ___________________________________________
AD WORDING: _______________________________________
_________________________________________________
_________________________________________________
_________________________________________________
The VEP Executive Board reserves exclusive right to refuse any ad for any reason. VEP does not certify nor is it responsible in any way for the claims, goods, or services of any advertisers.
Bulletin Board advertising rules:
1. Bulletin Board ads are limited to four (4) lines of text. One line contains 50 characters, including spaces.
2. VEP will print free Bulletin Board ads for its members for one-time transactions involving less than $400, for lost and found, and for services offered by kids under 18 or retirees over 60 years of age. Free ads may be published in a maximum of three successive issues of the VEP News per submission. After three issues, non-renewed ads will be dropped without notice.
3. VEP will print commercial Bulletin Board ads for its members for $6 per issue of the VEP News. (A commercial ad is one that offers goods and/or services for a fee. The VEP President and/or Editor has final say in determining whether an ad is commercial.) Ads must be prepaid before publication and be of four (4) lines or less in length (see 1, above). Commercial bulletin board ads may be published indefinitely so long as payment is received in advance of publication. Non-renewed ads will be dropped without notice. No graphics allowed.
4. Bulletin board ads and payment must be received at least 12 days prior to the fourth Tuesday of the month for inclusion in that month's newsletter. Mail to: VEP, P.O. Box 18111, San Jose, 95158.